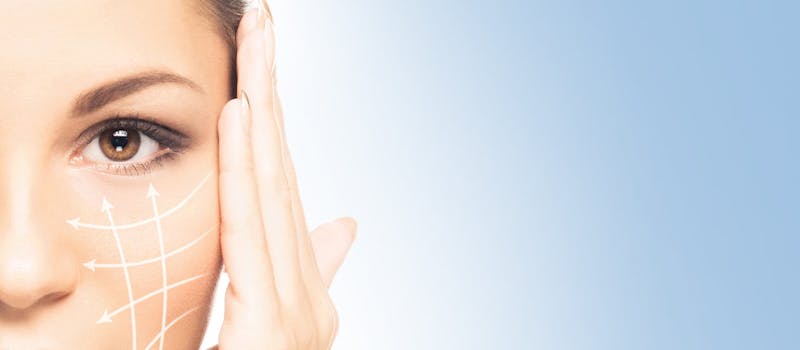 The eyes are often regarded as the focal point of the face. At Guelph Facial Plastics, we know how frustrating it can be when the delicate skin around this area starts to sag. Dr. Matthew Brace
, one of North America's top facial plastic surgeons, can help you correct your tired eyes with Blepharoplasty.
What is Blepharoplasty?
Blepharoplasty, often referred to as an eyelift, is a surgery to restore a youthful appearance to the eyes. This procedure can correct a multitude of eye concerns, such as wrinkles, puffy eye bags, or heavy eyelids. With age, the skin around your eyelids stretches and the supporting muscles to weaken. The natural fat that cushions the eye can then bulge. This often creates a tired appearance. The purpose of a blepharoplasty is to literally open the eyes to create a more rested, rejuvenated look. At times, the excess hanging skin can obstruct vision, and a blepharoplasty surgery can correct this problem, restoring a full visual field. Both the upper and lower eyelids can be addressed in this surgery depending on the area of concern.
The Procedure
This surgery is generally performed under local anesthesia. For upper eyelids, once the patient is anesthetized, the excess skin, muscle and/or fat are removed through incisions made along the fold of the upper eyelid. The incisions are then stitched back together with delicate sutures. Underneath the eye the process is similar, with a cut being made either just below the lashes where there is a natural crease, or inside the lining of the eye. Any sagging skin or excess fat and muscle are then removed and the incision is closed. The entire procedure can take between two to three hours, depending on if both or just one of the upper or lower eyelids is being addressed.
Post Procedure
After the procedure, there may be some light sensitivity, blurred vision, and some swelling and bruising in the days following. This is all normal and to be expected. Patients will be advised to perform certain activities to make recovery more comfortable, like applying a cold compress on the eyes multiple times a day, cleaning the eyelids with prescribed medication, and wearing sunglasses when outside to protect the eyes. It is recommended patients avoid any strenuous activities, smoking or touching their eyes for at least a week post surgery. A week of time off work or school is the norm for proper recovery. The majority of swelling or bruising should be gone at this point, while scars will fade over 6-12 weeks.
Why Blepharoplasty?
If you suffer from excessive drooping upper eyelids, or noticeably sagging lower eyelids this procedure could be an effective solution for you. Not only will this improve your vision, it will also give you the confidence to put your best face forward. If other products that promise noticeably lifted and firmer looking skin have failed you, perhaps it's time to consider a blepharoplasty. Your eyes will instantly appear more open and alert, but more importantly, they will stay this way permanently.
Book your free consultation with Dr. Brace today to learn more about Blepharoplasty surgery at Guelph Facial Plastics.