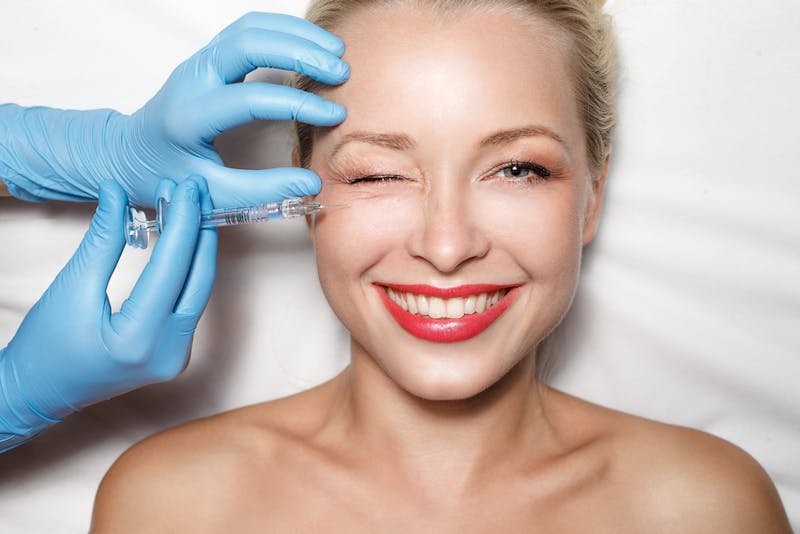 Even millennials are opting to be frozen in time with Botulinum Toxin — here is everything you need to know about the Botox trend.
Since becoming FDA approved in 2002, the annual amount of Botulinum Toxin treatments performed such as Botox® and Dysport®, has risen 797 percent. In 2015, 6.7 million Botox procedures were performed and 64 percent of doctors saw an increase of patients under 30, according to the American Academy of Facial Plastic and Reconstructive Surgery (AAFPRS). So why are twenty-somethings, who barely have had time to develop wrinkles yet, already pro-actively treating them?
How it Works
Botox (a trademark name) is an injectable prescription drug known as a neurotoxin that temporarily relaxes the connection between the nerves and facial muscles. With the facial muscles no longer pulling on the skin, wrinkles and fine lines are temporarily reduced. Future wrinkles and creases are prevented, as the muscles cannot engage in facial contractions that would translate to wrinkles (ie. frowning lines, Crows Feet wrinkles, etc). It is important to note, however, that Botox does not treat wrinkles caused from gravity or sun damage.
When performed by a knowledgeable professional, Botox is an extremely safe and effective procedure. However, when it is not, the procedure can easily go awry. Causing the stereotypical "surprised" appearance associated with a poorly performed Botox treatment.
With that said, Botox can reduce more than your wrinkles. The injections are also used to reduce chronic migraines, gummy smiles and excessive sweating. Recent research also found Botox injections an effective way to treat certain types of depression.
Why so Early?

Using Botox as a preventive measure has its advantages. If you think of your facial skin like a piece of paper. The less you crumple the paper, the fewer creases to smooth out later. Becoming increasingly more common amongst those in their twenties and thirties. Botox is the best way to ensure a natural and youthful appearance, later in life. By preventing dynamic wrinkles from turning into static wrinkles. Botox injections are used throughout your twenties and thirties, avoiding the undesirable "frozen" appearance. With that said, most doctors recommend you only begin Botox treatments when you begin to see wrinkles form. With injections every three to four months, deep wrinkles are unable to form and doses remain minimal.
What to Remember?
The most important thing to remember when receiving Botox earlier in life as an anti-aging measure is to find a respected Botox expert. With treatments costing $300 to $500 each(usually with three treatments annually), you truly get what you pay for. Cheap Botox is never good, and good Botox is never cheap. Dr. Matthew Brace is a top cosmetic and reconstructive facial surgeon. As a Guelph University alumni, Dr. Brace studied medicine at Dalhousie University in Nova Scotia. This is where he was introduced to Otolaryngology-Head and Neck Surgery. Dr. Brace trained extensively in cosmetic and therapeutic Botulinum Toxin Procedures. He also received the highest mark and finished first among all surgeons on the American Board of Facial Plastic and Reconstructive Surgery Certifying Examination. Which sets the bar for facial plastic surgeons around the globe.
When using Botox as a preventive measure, it is essential to seek out sound advice and a knowledgeable professional to ensure your procedure provides you with the natural results you're looking for. Book your injectables appointment with Dr. Brace today.