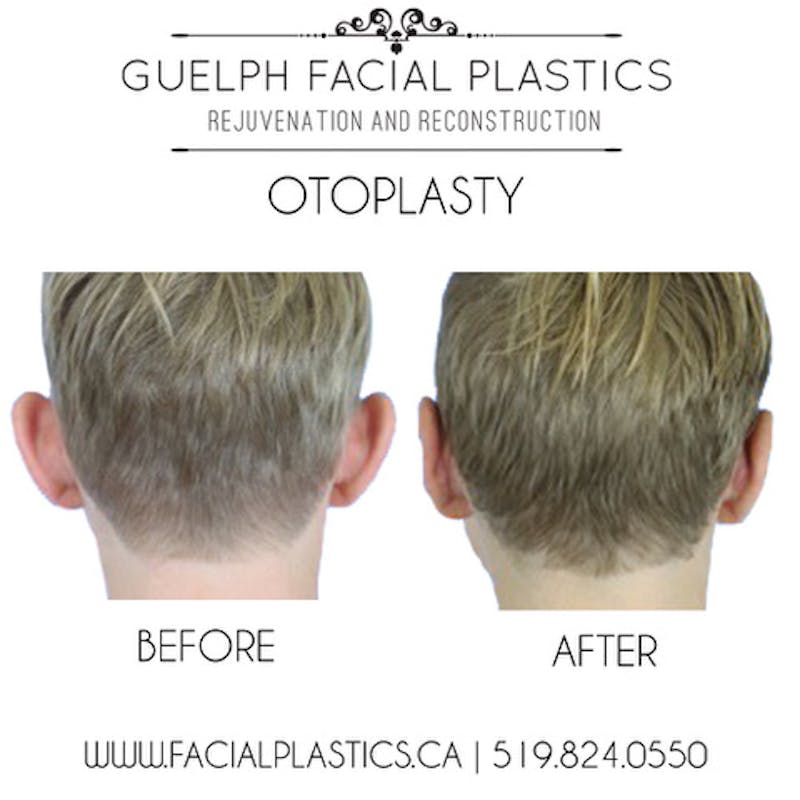 Reshaping your ears can be a life-changing decision. At Guelph Facial Plastics, we understand this type of appearance altering surgery can be an emotional experience. We offer Otoplasty surgery performed by one of North America's top Facial Plastic Surgeons, Dr. Matthew Brace. His approachability, patience, and attentiveness allow each patient to feel informed during the entire process.
---
What Is Otoplasty?
Otoplasty is a cosmetic procedure done to improve and reshape the appearance of the outer ears. This treatment can correct the appearance of ears that are overly prominent or oddly shaped. This surgery does not affect ear functionality, nor will it improve or hinder hearing. It is performed strictly to correct or alter the shape of the outer ear(s).
What To Expect With Otoplasty
Otoplasty surgery to reshape the ears is a one to two hour procedure, depending on the patient's ear anatomy and goals. The surgery can be completed under either local or general anesthetic. Once the area has been anesthetized, an incision is made behind the ear to expose the cartilage. The cartilage is then carefully sculpted or repositioned to create the look desired. Stitches secure and maintain the new shape. During this process, a piece of cartilage may be removed to create a more natural looking ear fold. The entire procedure is performed without causing any unnecessary trauma or extensive scarring to the ears.
Post Otoplasty Surgery
Patients can expect about a week of downtime after otoplasty surgery. During this time, it is recommended not to attend work or school to ensure a restful recovery. There may be some slight soreness or discomfort within the first week of recovery, however pain medication can be prescribed to alleviate these symptoms. The head will be wrapped in a dressing for a duration of this first week in order to hold the new positioning of the ears. Once this dressing is removed and the stitches healed, no further bandages should be necessary. However, patients will be required to sleep with a specialty headband for about 1-2 months afterward, to keep the ears from bending and becoming misshapen during the night. Vigorous activity or contact sports should be avoided for about six weeks after surgery, as the ears will still be sensitive to touch.
Why Consider Otoplasty?
Prominent ears can cause undue self-consciousness for some people and affect their self esteem.. For children, prominent ears can become a source of teasing by peers. Otoplasty is a low risk and efficient surgery that could change your confidence. It is covered by OHIP for all Ontario patients under the age of 18. The shape of your ears can not be easily hidden during all seasons. Otoplasty is the only permanent solution available to correct the shape of the ears.
---
For information about Otoplasty surgery at Guelph Facial Plastics, book your free consultation with Dr. Brace today.