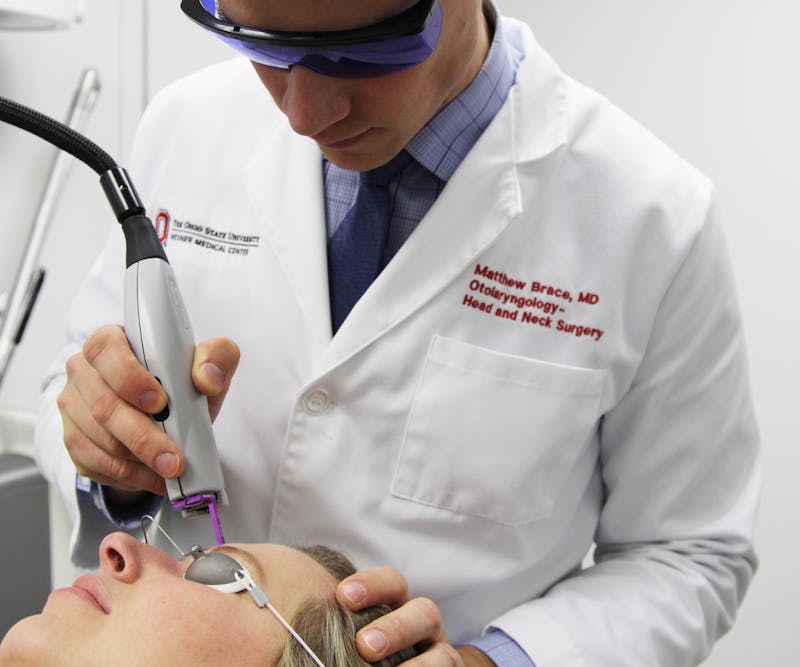 As laser technology has progressed, so has the ability for one machine to perform multiple treatments. At Guelph Facial Plastics we offer two advanced laser technologies, the VBeam Perfecta and the Co2RE; both of which yield a plethora of safe and efficient solutions for nearly any skin issue.
VBeam Perfecta
Developed by Syneron Candela, the advanced laser VBeam Perfecta has quickly become the world's best-selling pulsed dye laser since it became FDA approved in 2004. Known as the gold-standard in pulse-dye laser technology. The VBeam Perfecta is the premier choice for those looking to remove pigmented and vascular lesions on both the face and body. With a variety of pulse widths, various sized areas are able to be quickly and effectively treated with less risk. Pulse-dye technology works by delivering the laser energy into the skin in short pulses to safely target and lessen the look of pigmented skin without harming the surrounding cells. The laser energy is then absorbed by the specific blood vessels or pigmented area being treated, lessening their appearance drastically.
A number of different skin irregularities and unwanted skin pigmentation can be treated with the VBeam Perfecta, such as rosacea, acne scarring, warts, wrinkles and spider veins. At Guelph Facial Plastics, we often use the power of the VBeam Perfecta to help reduce the look of post-procedural bruising and scarring. We are able to calibrate the laser specifically to match the skin issue being treated. Making it easy to ensure each patient is comfortable throughout the entire treatment. Combined with a dynamic cooling method, which sprays a cooling mist onto the affected area. The VBeam Perfecta allows for maximum comfort with little-to-no-downtime. Our patients have seen results in as little as one treatment with this advanced laser.
CO2RE
CO2RE is a versatile skin resurfacing system, which uses fractional CO2 laser resurfacing to completely rejuvenate the surface middle, and deep dermal levels of skin. With the use of fractionated beam patterns the CO2RE can seamlessly perform traditional CO2 resurfacing, as well as a laser excision of lesions. This unique treatment is lighter, faster and more versatile for skin resurfacing compared to traditional ablation. As all layers of skin from superficial to deep are able to be reached and rejuvenated.
CO2RE can provide safe and effective solutions for the reduction of wrinkles and scars. As well as both CO2 and fractional resurfacing. When performed with the correct knowledge and expertise (as is done at Guelph Facial Plastics by Dr. Matthew Brace
, the CO2RE laser offers unrivaled rejuvenation effects which are visible in as little as one treatment. After the procedure skin will feel as though it is sunburnt. Dead skin will start to peel over the course of a few days. This is the natural exfoliation process that will reveal new, healthy glowing skin.
To learn more about Guelph Facial Plastics advanced lasers, click here to book your free consultation.