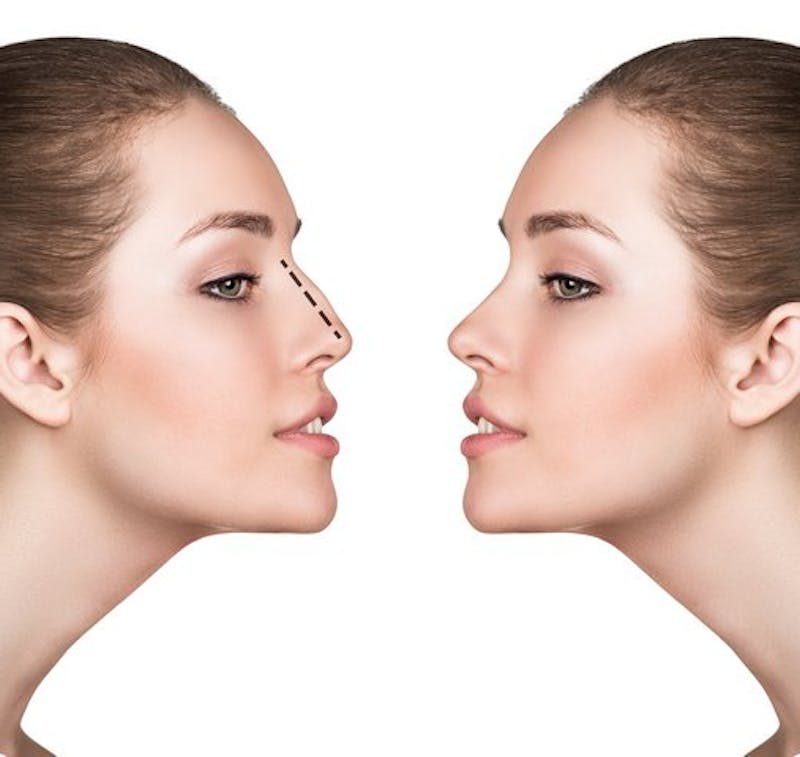 Rhinoplasty remains one of our top requested procedures. One of the world's most practiced cosmetic surgeries, Dr. Brace has extensive experience and finesse with this surgical procedure.
What is Rhinoplasty?
Rhinoplasty is a surgical procedure which alters the shape of the nose. More casually referred to as a "nose job", rhinoplasty is one of the most commonly performed cosmetic surgeries. As the nose is arguably the most dominant facial feature, it is unsurprisingly a popular area to alter.
As with any cosmetic procedure, there are many possible reasons to consider rhinoplasty. Whether it is for cosmetic or anatomic purposes, rhinoplasty offers many positive benefits such as improved breathing and a more symmetrical or balanced facial appearance.
One of the scariest obstacles to overcome when contemplating whether or not a rhinoplasty is right for you is the fear of not 'looking like yourself' afterwards. A properly performed rhinoplasty should not attract attention to your nose, but rather place your nose in balance with your face. Individual goals are highly variable from person to person and during the consult process Dr. Brace will use sophisticated computer imaging software to 'perform computer surgery' on your nose to give you a realistic idea of what to expect your nose to look like once all the swelling settles. One of the most frequent comments during a consult after looking at the simulated surgical result is 'oh I still look like me!'. This is the goal of a rhinoplasty.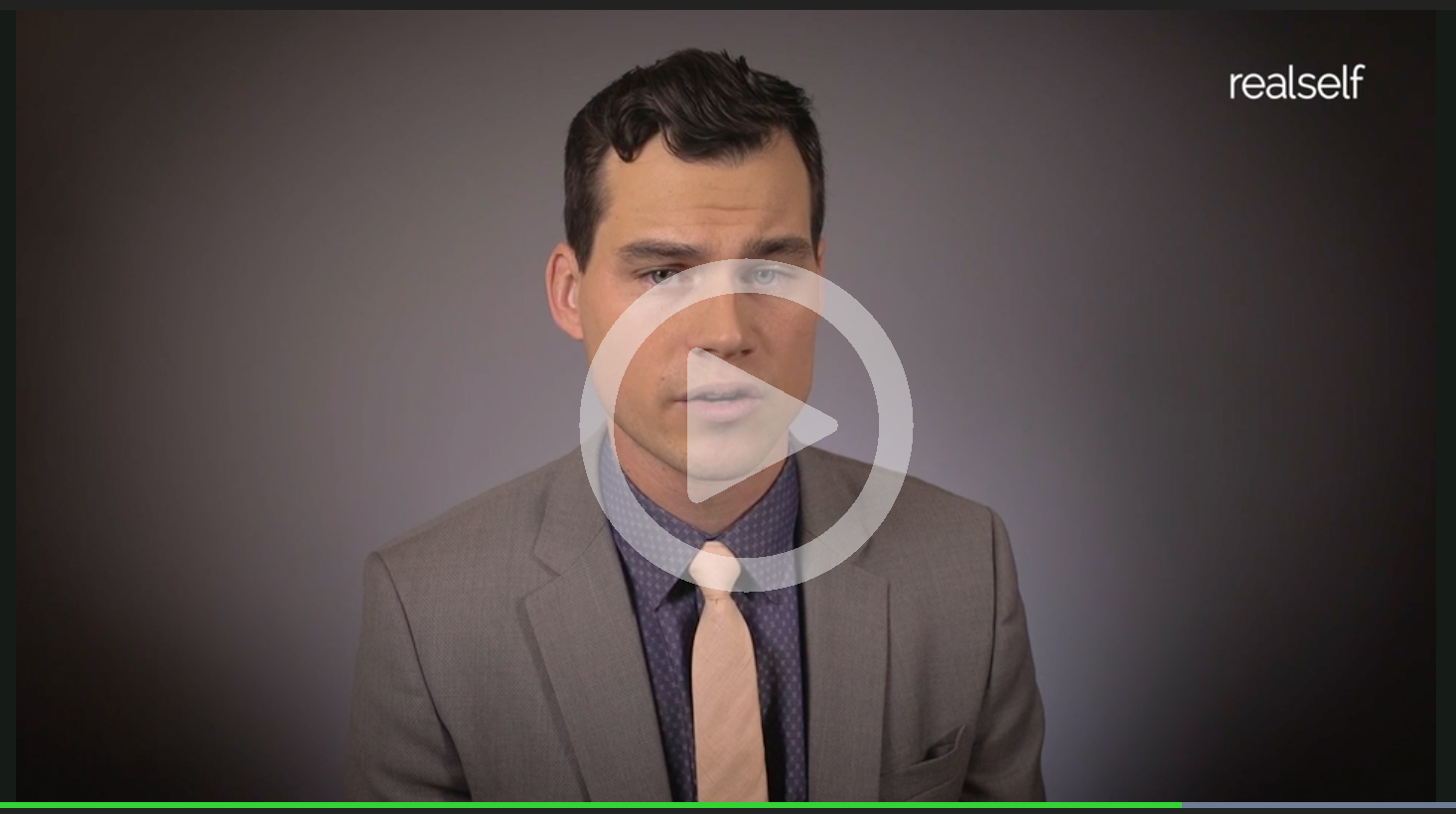 To reap the full benefits of nasal surgery, our highly skilled and experienced facial surgeon Dr. Matthew Brace often recommends patients have both a rhinoplasty and septoplasty performed at the same time. This is referred to as a septorhinoplasty. Septorhinoplasty is a procedure to correct the nasal septum (the middle wall inside the nose) to improve nasal breathing while making external changes to change the shape of the nose at the same time. During your initial rhinoplasty consultation Dr. Brace will determine whether septorhinoplasty is a beneficial option for you.
Although both rhinoplasty and septorhinoplasty are common procedures, they are also quite complex. The length of your rhinoplasty surgery will depend on the amount of corrections to be made, but average at about one to three hours in length. As nasal surgery is a highly individualized operation, Dr. Brace will be able to give you a better overview of what to expect after your initial consultation.
Why consider Rhinoplasty?
Deciding to alter a very prominent feature of your face is no small decision and can also be deeply personal.
Possible reasonings behind rhinoplasty may include:
You are discontented with your natural nose

You are discontented with how your nose has developed over time

Your natural nasal passages make breathing clearly difficult

Your nose has been altered as a result of accident or injury
Rhinoplasty is best performed on those with matured facial features— unless medically necessary, this procedure is not recommended for patients under 16 years old or who are still developing. If your shoe size and height hasn't changed in the past year and you are adult size, Dr. Brace will be able to operate. This requirement helps to ensure the facial growth is complete and that cosmetic surgical alteration will not affect further facial growth. Before coming in for a consultation, we ask that you carefully consider how rhinoplasty will impact your self-image and how you will cope with the recovery and with reactions of those around you.
[foogallery id="556″]
The Consultation
In order to have a successful and effective surgery, it is imperative to have an open and frank consultation with your facial surgeon. A good facial surgeon should ask you specific questions to best tailor your surgery to your exact needs.
During a consultation with Dr. Brace, be prepared to go over the following specifics:
Your overall health

Your expectations for the surgery

Any pre-existing allergies or medical conditions

Any medications, vitamins, supplements, alcohol, tobacco or drugs you are currently using

Previous surgeries

Any family history that could be relevant to your facial features

Any familial features you are looking to retain in your nose (not every person with a bump wants the bump gone! Sometimes the goal is a smaller bump.)
Afterward, there will be time to ask questions. Some key questions to keep in mind are:
How best to prepare for this procedure?

Will I need assistance from someone post-op?

What complications or side effects could occur?

What kind of discomfort will I have?

How will I look immediately afterward?

How long will any bruising/swelling last?

Is there anything I should avoid afterward (i.e. activities, environments, etc.)?

Is there a specific aftercare program I should follow?

How quickly will I be able to resume to normal life?
You may be asked to take certain medications or adjust existing meds in the weeks leading up to your surgery. One of the most common medications Dr. Brace suggests refraining from is aspirin and other anticoagulants, as they thin the blood and can increase bleeding. Our team will thoroughly review your medical records, evaluate any conditions you have and discuss the procedure in depth during this time. If you have any concerns or questions, we urge you to ask Dr. Brace or our knowledgeable staff.
What happens during the procedure?
The procedure itself is performed under general anesthesia and usually lasts between one to three hours, depending on the amount of work to be done. Dr. Brace will decide beforehand whether to perform an "open" or "closed" surgery, which will affect where an incision is made. A closed surgery is performed through incisions made within the nose through the nostril, leaving no visible scarring. An open surgery is necessary when more structural work is being done to the nasal skeleton and tip. Incisions are made on the columella, as well as within the nose itself. This technique allows for greater visibility, better control of tip reshaping and with Dr. Brace's expertise, minimal scarring.
The procedure starts by separating the skin around the nose from the nasal structure itself (the bone and cartilage). This structure is either sculpted and repositioned, or it may require the removal or addition of cartilage. After the corrections have been made, the skin is placed back in its original state and secured with sutures.
Risk and Complications
Dr. Brace is a highly experienced and educated facial surgeon, one of few in Canada, and specializes in rhinoplasty; however, it is imperative all patients understand there is always risk involved. Here are some possible side effects and complications to be aware of when going in for your surgery:
Nasal obstruction.

It is reasonable to expect 4-6 weeks of swelling in the nose after surgery that will feel like a common cold. Once this settles breathing should be returned to normal or improved. Scar contracture can cause breathing issues in the longterm, years after surgery, if proper cartilage grafting to support key areas of the nose is not undertaken.

Discontent with appearance.

Since rhinoplasty changes the shape of the nose, it can be possible for a patient not to be entirely happy with their appearance post-treatment. This can be avoided through a clear conversation with Dr. Brace about your desired look, as well as through computer simulation which ensures you and Dr. Brace are on the same page with the desired result.

Bleeding.

As mentioned above, avoid taking blood thinners such as aspirin before and after your surgery. Not only will this increase the amount of blood during the surgery itself, it could also cause nosebleeds post-op. If you have a family history of bleeding disorders, please make this known to Dr. Brace during your consultation.

Infection.

Any surgical operation may carry the risk of infection. This risk is minimized by ensuring sterile surgical technique and post-operative antibiotics.

Deformation.

Classical rhinoplasty techniques to resect cartilage and refine the nose often lead to nasal tip deformation if too much cartilage is removed. When reducing the width of the nasal tip, it is critical to support these cartilages with grafting techniques. If the nasal bones need to be broken as part of the planned surgery, a splint will be placed, but trauma to the nose while this is healing can cause deviation of the nose and crooked healing. At times, cartilage grafts themselves can warp and cause irregularity in the nose years later.

Scarring.

Open surgery of any kind will leave you with a scar. However, this can be minimized with meticulous technique and proper post-operative care. In the long-term the scar is barely perceptible.

Septal Perforation:

This can happen after surgery. A tear forms in the lining on either side of the spectrum, creating a permanent hole. This is normally not a serious problem, however if the tear is large it can contribute to a dry nose or nosebleeds.
What to Expect During Recovery
Once surgery is over, a splint will be placed on the nose to preserve the shape and hold everything in place. This will be removed about a week post-surgery. Nasal packs may also be placed inside the nostrils to support the septum and reduce any swelling or bleeding. These are normally removed after 1 day. Pain-relieving medication may be prescribed if necessary during these initial days.
During this time of immediate recovery elevation is important and will provide more comfort while you are sleeping or resting. Propping your head up with pillows is the easiest way to do this. Remember that cosmetic surgery recovery takes time, and can be uncomfortable. Give yourself the time to fully recover and don't push yourself to heal faster than you are. The nose is quite fragile to begin with, so ensure you follow your post-operative rules carefully. Your surgeon will go over this with you in a follow up appointment.
Most patients begin to feel significant improvements a week after surgery, while results usually become visible after two weeks. After this time you may return to your regular work-life balance. Continue to steer clear of any strenuous exercise or physical activity for the next 2 weeks, in order to avoid excessive bleeding. As the months go by swelling and bruising will reduce until final results are visible, usually around one year post-op.
---
For everything you need to know rhinoplasty surgery, and to determine if it's right for you, book your free consultation with Dr. Brace today.