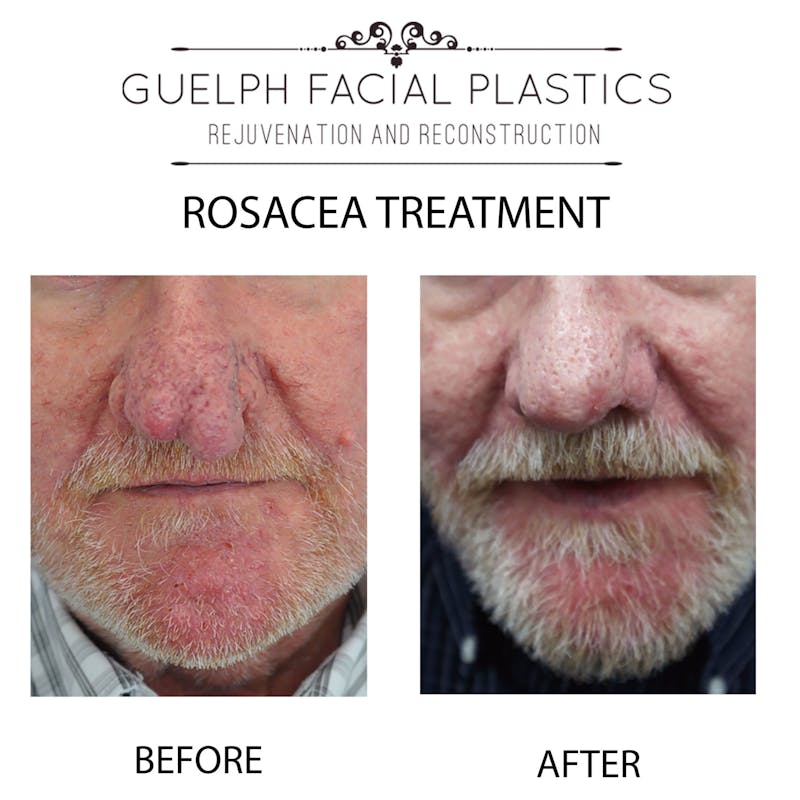 Above is an example of what CO2RE can do. This is a conclusion after one month of CO2RE treatment for Rhinophyma. This is an extreme form of rosacea that can cause tumor like growths of oil glands on the nose. As you can see, CO2RE is great for treating this condition. A month after the treatment, Dr. Brace used the VBeam Perfecta to maintain positive results. Syneron Candela's VBeam Perfecta is the world's best selling pulsed-dye laser. It is a safe and effective in the treatment of vascular, pigmented and some non-pigmented lesions.
---
What is Rosacea?
Rosacea is a common skin disease, usually impacting people over the age of 30. It is a chronic inflammatory condition of the skin that causes redness on the cheeks, nose, chin, and forehead. Redness is usually persistent and worsens when certain triggers cause flushing. These triggers can include exercise, sun exposure, spicy foods, alcohol, etc.
Over time, redness can become more persistent and blood vessels may become visible and dilated. If left untreated, small bumps and pimples can appear. In extreme cases, skin can thicken and cause bumps on the nose to develop, called rhinophyma. It can also cause the eyes to become irritated, watery and bloodshot.
What are the signs of Rosacea?
The earliest sign of rosacea is a consistent flushing of the face, with intense redness often coming and going. In addition, another early sign is persistent and skin irritating redness that does not easily calm down.
Ready To Eliminate Your Rosacea?
Fill out this contact form for a FREE Consultation![gravityform id="3″ title="false" description="true"]
What causes Rosacea?
The cause of rosacea is not well understood or agreed upon. It is a form of acne with some evidence suggesting chronic infection in the skin may play a role. While antibiotics are often used to treat rosacea, no cure is available. However, there are products and treatments readily available to help control symptoms and help reverse the associated signs and symptoms of rosacea. To find out what is available to you, it is important to visit your physician or a dermatologist, as they can prescribe the best course of action for your individual case. It is more commonly found in individuals with fair skin of European and Celtic origin. However, people of all skin types can be affected.
How can I treat Rosacea?
The best of course of action for treatment is to talk to your physician or a dermatologist, who can assess your unique case of rosacea. At Guelph Facial Plastics, we have some of the most advanced treatments available to treat a variety of skin issues.
Two of our most popular treatments are Syneron Candela's CO2RE laser and VBeam Perfecta laser. The CO2RE is a fractional CO2 skin-resurfacing laser that can treat both the superficial and deep dermal levels simultaneously. The VBeam Perfecta Pulsed Dye Laser delivers a soft but powerful blast of power into the regions of skin targeted for treatment. The light is swallowed by the melanin pigmented sections or blood vessels, harmlessly managing the multiple kinds of discoloration and problems concerning skin composition. There are also topical, non-antibiotic ointments that can dramatically improve redness and compliment the result of the laser treatments.
---
If you struggle with Rosacea or Rhinophyma and are looking for a solution, contact Dr. Brace today.