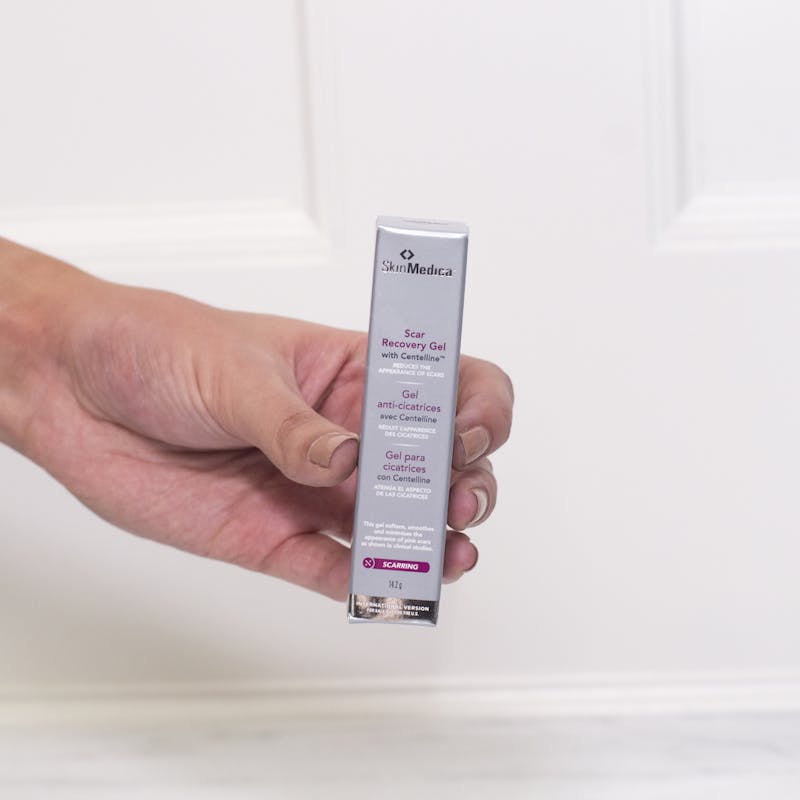 When it comes to healing your skin properly after complex procedures, Dr. Brace often recommends using Skin Medica's Scar Recovery Gel. By smoothing and nourishing the skin, the Recovery Gel ensures your skin heals at all stages of scar formation.
What is it?
Skin Medica's Scar Recovery Gel with Centelline, also known as Centella Asiatica Extract, is a gel-like substance that can be applied to a new or an old scar in order to soften, smooth and minimize the appearance of scarring. Some of the main ingredients include Centelline, Oleuropein, and Bulbine Frutescens — which are all combined together to help prevent and heal scarring in different ways. The Centelline rebalances cells and helps within the recovery process; Oleuropein minimizes pigmented pink colouring around scars; and Bulbine Frutescens provides hydration to the skin as it recovers.
When do I apply it?
Skin Medica's Scar Recovery Gel is to be applied once the wound is fully healed. Being consistent with the applying process is essential to eliminate any pink or red colouring. Continue applying to the area each morning and evening until the scar appears flat and white, without any redness.
Where do I apply it?
Recovery gel can be applied directly to the scar, cut or incision, avoiding all open wounds and abrasions (the product is not sterile and is intended for external use only). Skin Medica's Scar Recovery Gel is dermatologist approved and safe for use on all skin types from sensitive, to dry and acne-prone. Many dermatologist recommends this product to help reduces scars caused by acne.
How do I apply it?
Both before and after the applying process be sure to wash your hands and measure out a small amount of gel — just enough to cover your scar with a thin layer. Avoid any gel contact with your eyes and immediately rinse eyes with cold water if contact occurs.
Why we encourage the use of Scar Recovery Gel
At Guelph Facial Plastics we encourage the use of Skin Medica's Scar Recovery Gel to help eliminate any risk of scarring. We love the results that our patients achieve at our practice in combination with Scar Recovery Gel.
---
To learn more about the Skin Medica products we offer at Guelph Facial Plastics, contact us today.