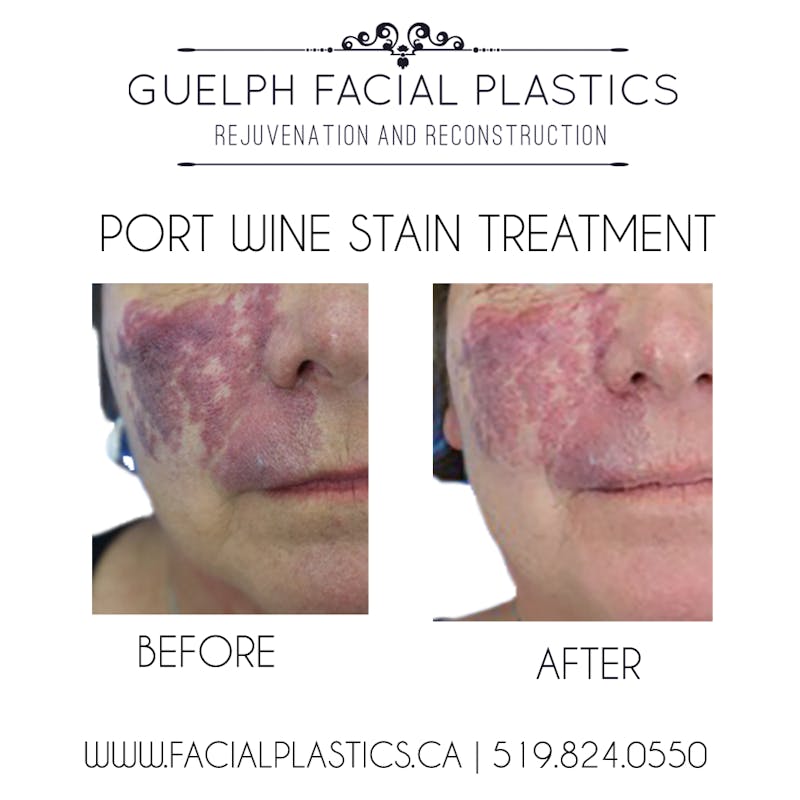 The first photo is before this patient's VBeam Perfecta treatment and the after is the six weeks post-treatment. With significant lightening of the lesion especially laterally, the stain has gone from purple to red. With continued treatment, Dr. Brace is confident that this stain will continue to lighten significantly.
---
Although port wine stains affect every one in 300 babies born
, there are often many uncertainties regarding what causes the condition, what it means, and how it can be treated. At Guelph Facial Plastics, we educate our clients and successfully treat port wine stains.
What are port-wine stains?
A port wine stain is a kind of birthmark, usually large in size and often on the face, neck or head. It's name is in regards to its maroon colouring, and that it often looks as though wine has been splashed onto the skin. They are formed from a malformation of blood vessels in the skin. At birth, the mark usually starts out looking pink, then begins to progress to a darker colour with aging. For many children, port wine stains don't impact their daily lives until school age when teasing begins which can lead to significant psychological stress and self consciousness.
Port wine stains are largely considered to be harmless; however, there are very rare cases in which these "stains" can be associated with more serious medical conditions. A medical assessment is important in all of these cases.
How can they be treated?
One of the most effective ways to treat port wine stains is with a pulse dye laser. At Guelph Facial Plastics, we use the gold standard in pulsed-dye laser technology: Syneron Candela's VBeam Perfecta. The safe and effective laser lessens the look of port wine stains and other common pigmented and vascular lesions. The VBeam perfecta delivers energy into the skin in pulses, allowing the beam to target the area being treated without harming the surrounding skin with a guaranteed faster clearance and minimized risk.
Treating port wine stains, is often easier when the patient is younger. As results are most effective when the "stain" is less pigmented and smaller in size. As early as infancy children can be treated without any pain or side effects. At Guelph Facial Plastics, we handle these cases with the utmost care and caution. We understand that young children's skin is very sensitive and must be treated differently to that of an adult. Rest assured that your port wine stain (or your child's) will be treated by one of North America's top facial plastic surgeons, Dr. Matthew Brace.
---
For more information on this condition or Guelph Facial Plastics' treatment for the condition, book your free consult.