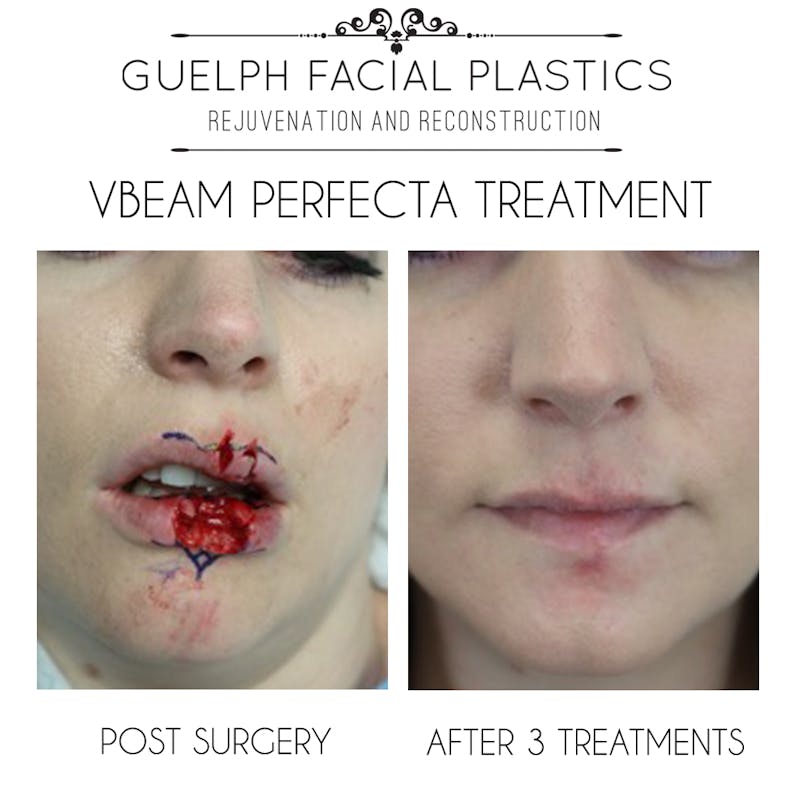 Although laser treatments are most commonly used for cosmetic purposes, in many cases patients can benefit from the healing powers of non-invasive treatment options. At Guelph Facial Plastics, we treat a variety of different injuries with our array of services. One of the most popular and multifaceted of them is the VBeam Perfecta, the world's best-selling pulsed dye laser.
What it is the VBeam Perfecta?
VBeam Perfecta by Syneron Candela, is the gold standard in pulsed dye laser technology. Pulse dye lasers are safe, effective technologies which primarily help lessen the look of pigmented and vascular lesions on the face and body. By delivering the laser's energy to the skin in pulses, the VBeam laser can target the treatment area without impacting the surrounding skin. The VBeam Perfecta also boasts a variety of pulse widths, which allows for treatment of various sized areas. With the variety of pulses, the VBeam ensures faster and more effective treatments, with lower risk. The VBeam laser provides effective solutions to a number of skin irregularities and unwanted skin pigmentation.
What can the VBeam Perfecta treat?
The VBeam Perfecta effectively treats skin concerns such as spider veins, wrinkles, acne scars, warts or rosacea. This treatment can also help in lessening the look of post-procedural skin concerns like scarring, stretch marks or bruising. At Guelph Facial Plastics, we use this unique multi-faceted tool to treat a variety of different cases. We can calibrate the laser based on the skin condition being treated, all the while ensuring the patient is comfortable throughout the entire process. All of our VBeam Perfecta clients have experienced excellent results, noticing visible results in as little as one treatment. All of our laser treatments are done house at our clinic in Guelph, Ontario.
Our Success Story
After a dog bite to the lip, this lovely young lady had a significant disfiguring injury. One month after repairing her lip, Dr. Brace began treating her with the VBeam Perfecta laser. With three treatments spaced four weeks apart, the scar has become significantly less red, less itchy, has faded and become softer. The VBeam Perfecta speeds up the resolution of the redness and inflammation, helping scars fade away quickly. This was combined with Skin Medica Scar Recovery Gel with Centelline to optimize the scar healing.
---
For more information on how Dr. Brace and the VBeam Perfecta laser can reduce your scarring, book your free consultation.