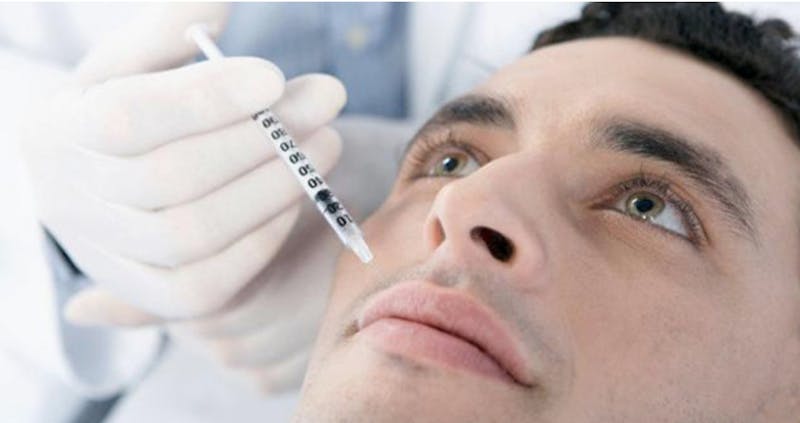 The growing number of aesthetically conscious men has created a phenomenon resulting in an increase in the number of male patients undergoing botulinum toxin treatments—now more commonly known as Brotox. The number of men seeking botulinum toxin has increased 355 percent in the last 15 years, according to the American Society of Plastic Surgeons. But despite its moniker, Brotox is the same injectable that women have been using for decades.
Botulinum toxin A is known by the popular brand names of Botox, Dysport, and Xeomen among others. This injectable is used to soften facial lines and wrinkles. especially of the forehead and crow's feet, as well as to contour the jawline, reduce sweating, treat migraines, weaken muscle spasms, and even decrease saliva production.
When it first entered the cosmetic market in 2002. Cosmetic applications were mainly targeted to women due to the stigma that surrounded men seeking cosmetic procedures. However, as the stigma has diminished, more and more men are enjoying the rejuvenating effects of Brotox aka botulinum toxin treatments.
Over 400,000 American men received injectables in 2014. According to a report by the American Society of Plastic Surgeons. Botox is most common among men between the ages of 35 and 65.
While the technical aspects of the injection are the same for men and women. Although men tend to require increased dosing of botulinum toxin A. This is to effectively treat larger facial muscles. However, every person is different and treatments should be tailored to individual patient's aesthetic goals. It is possible to have a botulinum toxin treatment and maintain expressive movement in the brow. Without having deep creases. This is where an expert injector is key to delivering the sought after outcome.
While historically men who age with facial wrinkles are perceived as rugged or distinguished. This is a changing social aesthetic. It is now acceptable, and even common, for men to combat the signs of aging with facial injectables, surgery and laser treatments. In the age of social media, Brotox is not just a passing fad, but a new social norm that will no doubt continue to grow in popularity.
Diminish your fine lines, wrinkles and insecurities with natural-looking injections at Guelph Facial Plastics. Dr. Brace personally guides each one of his patients through the Brotox process to ensure they get the professional natural appearance they desire.
---
Interested in how injectables can increase your confidence? Book your free consultation with Dr. Brace today.