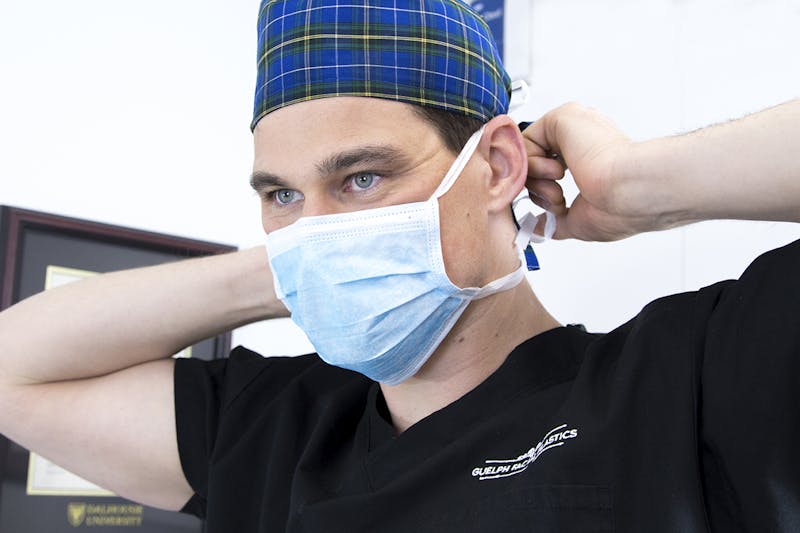 The eyes have many functions: they are the vehicle in which we see the world; one of the most powerful means of communication; and the focal point of the face. If you're feeling less than confident in your eyes, Guelph Facial Plastics offers three procedures to help revitalize them to their youth.
Sagging under eyes, droopy eyelids, dry, crepe-like skin around the orbital bone, does any of this sound familiar? Although these conditions are completely normal and part of the natural aging process, they can be cause for insecurity or low self-confidence. Top cosmetic and reconstructive facial surgeon, Dr. Matthew Brace offers three amazing eye-revitalizing procedures that will help you to put your best face forward—starting with your eyes.
Blepharoplasty
As the fourth most popular cosmetic surgery in 2016, Blepharoplasty is a tried and true method of eye-rejuvenation. With age and the effects of gravity, the delicate skin around the eyes can start to sag or droop, resulting in a permanently tired appearance and even obstructed vision. Blepharoplasty provides an effective and lasting solution to a plethora of eye concerns, such as wrinkles, puffy under-eye bags and/or heavy drooping eyelids. This procedure literally opens and tightens the skin around the eyes to create a more revitalized, rested appearance.
As one of North America's top facial plastic and reconstructive surgeons, Dr. Brace is highly skilled in Blepharoplasty surgery. Each patient has a preliminary meeting with Dr. Brace to ensure their concerns are addressed and both parties have a clear understanding of the desired end result. The procedure is performed under local anesthesia and can take between two to three hours, depending on whether both the upper and lower eyelids are being performed on.
During this time, the excess skin of the eyelid, with or without fat and muscle, is removed through small incisions along the fold of the eye's natural crease. This is to ensure any temporary scarring seamlessly blends in with skin. The incisions are then stitched back together. After about a week of recovery, patients can return to their normal daily activities. The area will continue to heal for up to 12 weeks post-procedure.
Fat Transfer
On the opposite end of the spectrum, not having enough volume around the eye area can also be an issue. Dark, hollow under eye sockets are often caused by hereditary factors and/or the natural aging process. Fat transfer or fat grafting, is an effective and permanent way to plump the skin around the orbital bone and create a more bright and lively appearance. Essentially, fat is taken from other areas of the body (usually the abdomen or the thigh) and very carefully injected into the eye area to fill the hollow socket and smooth the transition from eye to cheek. This technique requires meticulous technique and years of experience.
The procedure is carried out under anesthesia and is usually completed within 45 minutes to an hour. It can be combined with blepharoplasty to address all the aging changes of the eyelids. Like any procedure, a long and open discussion between doctor and patient is required to ensure expectations are aligned. Due to the nature of fat, it can easily be absorbed which often means transferring more fat initially to get your desire results.
Dermal Fillers
When using any fillers around the eyes, it's vital that you consult a highly experienced injector as there is a much higher chance of having a tyndall effect. The tyndall effect refers to the bluish hue that can be visible through the skin by superficial placement of hyaluronic acid. Dermal fillers around the trough filler requires exact placement. The filler needs to be injected right along the orbital bone. Although there is always a risk of a patient experiencing a tyndall effect (especially if they are prone to it), this risk drastically decreases by going to an expert injector.
If you know you are prone, Dr. Brace recommends using Restylane Refyne as it has the lowest chance of causing a tyndall effect. For under eye filler you must be the right candidate. When done correctly dermal filler have the ability to smooth out the transition between the under eye to cheek area beautifully. At Guelph Facial Plastics, Dr. Brace performs all injections to ensure patients receive optimal results.
---
If you are looking to revitalize your eyes, contact Guelph Facial Plastics today for your free consultation with Dr. Brace.
---